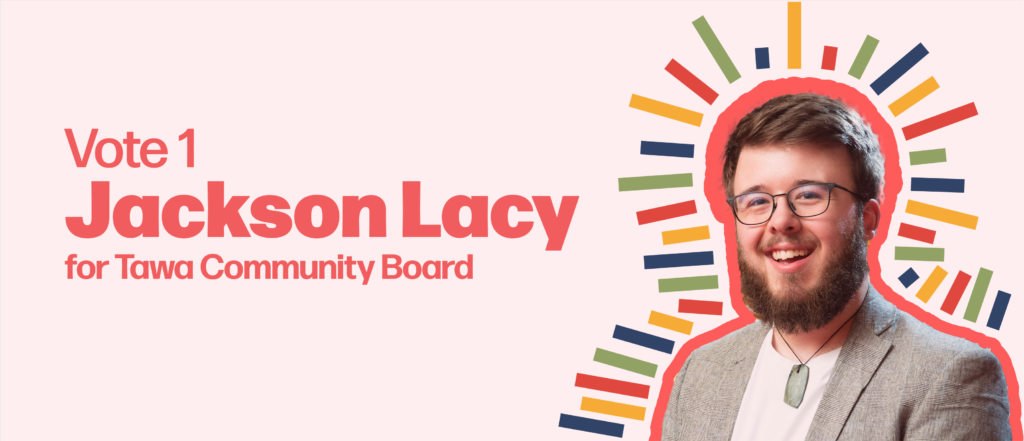 I've spent the last three years on the Tawa Community Board advocating for the things that matter most for our community: housing, climate action, and community services. We've made a lot of progress on those issues, particularly on securing better public transport, but there's still more work to do. I've built up the skills and relationships to advocate for what Tawa needs, and I'm asking for your support for three more years of progress.
Progress means protecting what we have now and embracing our future. For me, that means building the affordable housing that will keep our rangatahi here in Tawa – I know this personally, having been pushed into town by the rental market. It means protecting our environment, so we all have a future. It means strengthening our community, so people young and old feel safe and supported.
I humbly request your support – vote 1 Jackson Lacy.
---
I tū au i te Te Poari Hapori o Tawa i ēnei tau e toru hei māngai mā ngā take nunui i tō tātou hapori: ko te whai kāinga, ko te rongoā huringa āhuarangi, me ngā ratonga hapori. I kauneke atu te whakataunga o ēnei take e mātou, inārā ko te hāpai i ngā waka tūmatanui, heoi, he mahi tonu ā tātou. Nōku tonu ngā pūkenga hei hāpai i te hapori nei, ā tēnei au e tono atu ki a koutou kia tū māngai ai anō mō ngā tau e toru
Ko te ngako o tā tātou mahi ko te pupuri i te paetata me te whāinga o te paetawhiti. Mōku nei, ko te whakatū whare kia noho tonu ngā rangatahi i Tawa te tikanga o taua mahi – koirā te take i neke au ki Hataitai.
Mā te hāpai i te hapori, ka pūāwai tātou. Tēnā tautoko mai.
---
You can support my campaign by donating by credit card, or by bank transfer: 03-0502-0503679-000. Please mark your bank transfer as a donation, and let me know by email so I can recognise you: [email protected].
You can also support my campaign by volunteering – please get in touch: [email protected].